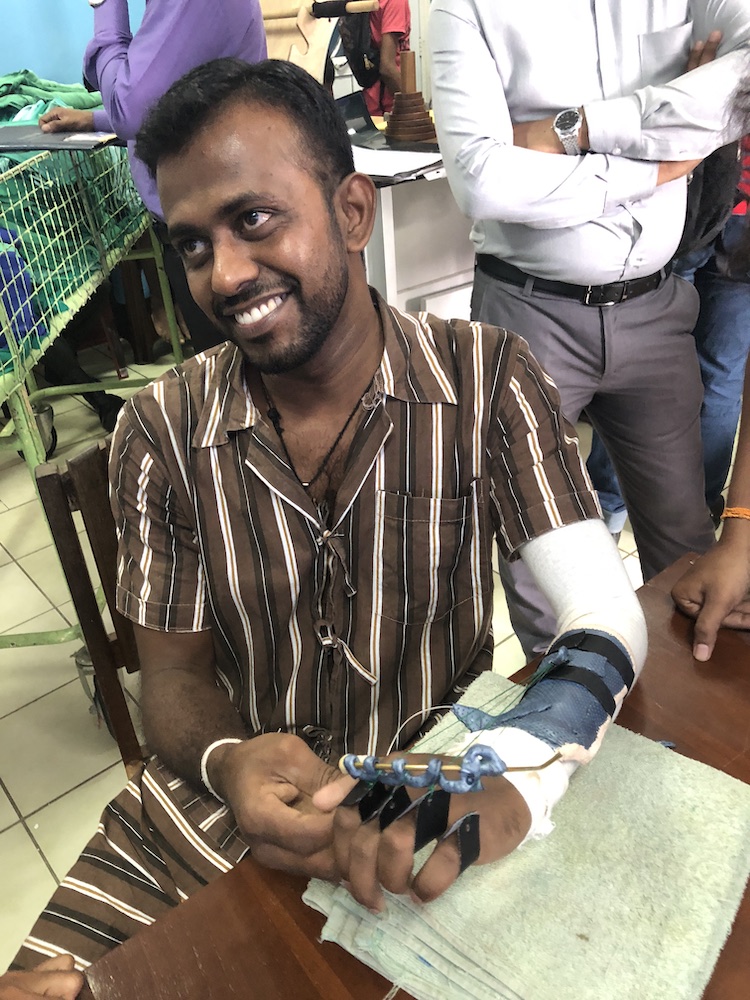 Three years ago, Lesanthe underwent emergency surgery in Sri Lanka to remove a foreign object that penetrated his left arm. While the object was successfully removed, Lesanthe was left unable to extend his wrist and hand.
Over the next few years, Lesanthe developed severe pain at the site of his initial injury which progressed along his forearm. When he met Interplast's hand therapy team in his home country of Sri Lanka this year, he was unable to use his left arm and hand.
In Lesanthe's first session with Interplast, he met volunteer occupational therapists and hand therapists, Beth McNeish and Kerry White, at the National Hospital in Colombo. During this session, Beth and Kerry taught local occupational therapists how to make a splint for Lesanthe.
Kerry said that steel spring wire is used but was not readily available in Colombo.
"Hospital staff were very resourceful and purchased plastic cord," she said.
"The assistants patiently unthreaded each fibre and plaited them together for strength to provide a line for each finger.
"It was a lovely combination of team work with a perfect static base splint made by local occupational therapist, Asha Karunathilake."
Asha noted that Interplast is playing a vital role in developing hand therapy in Sri Lanka.
"This is the only major support we receive in our clinical practice and we highly appreciate it," she said.
Thanks to Asha and the team's splint, Lesanthe was able to flex his wrist and fingers. By the end of the session, Lesanthe was able to grasp and release a small weightless object between his index finger and thumb.
Lesanthe will still require further pain management assessment and potentially surgical intervention to address the pain, but he has started on his journey to rehabilitation. His goal to reach independence is one step closer thanks to Interplast volunteers and his local occupational therapy team.
This program is supported by the Australian Government through the Australian NGO Cooperation Program (ANCP).