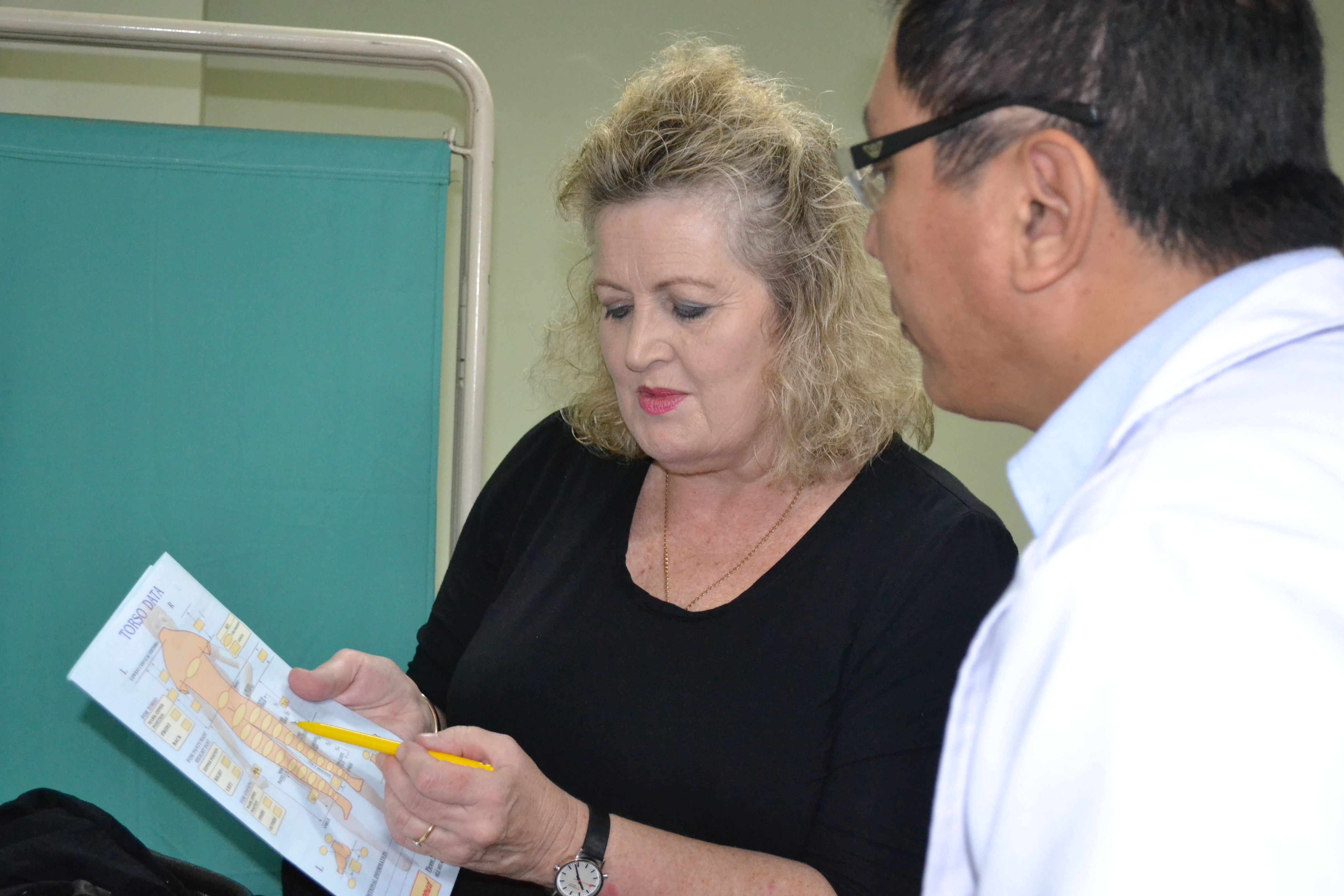 Interplast is proud to advise that have five long-standing Interplast volunteers have received well-deserved Order of Australia honours on Australia Day 2019. Congratulations to Jennifer Ball, David Inglis and Randall Sach on their Member (AM) award in the General Division and Marie Dorrington and Christopher Lowry on their Medal (OAM) award in the General Division.
Ms Jennifer Ball (pictured seated left) is a physiotherapist based in Hobart who received a Member of the Order of Australia for her service to physiotherapy, volunteering and teaching. Jennifer has been volunteering with Interplast since 2000 and has participated in 10 programs in Fiji and two programs in Nepal. Jennifer has made great achievements in delivering training and mentoring programs in allied health, specifically in the areas of upper body and burn injuries.
"I started in the Pacific to help to improve the skills and the knowledge of the physiotherapists so that they could actually help the surgeons in those countries to get better outcomes for the patients," Jennifer said in an ABC Online article.
Mr David Inglis is a Partner at international law firm, MinterEllison, sharing his expertise in corporate law and passion for philanthropy to help establish Interplast Australia and New Zealand in 1983.
The former Interplast president received the Member of the Order of Australia for his significant service to the international community through humanitarian medical programs. David has also been awarded the Royal Australasian College of Surgeons' Companion of the College Award in 2018, and the Paul Harris Fellow by the Rotary Club of Melbourne in 2016. Today, he continues to play an integral role at Interplast as an Honourable Member and generously provides pro bono legal advice to Interplast.
"I will always remember witnessing the dedicated and inspirational work undertaken by our volunteer surgeons, anaesthetists, nurses and allied health professionals (having participated in team programs to a number of countries). I will never forget the positive impact Interplast makes on lives," David said.
Mr Randall Sach is a plastic and reconstructive surgeon based in Adelaide who has volunteered with Interplast since 1984. He has changed many lives over the years, with his greatest impact in Sri Lanka where he has been generously serving for 15 years.
"I'm particularly proud of my work with Interplast," he said.
Randall is a leading hand surgery expert who was instrumental in developing hand surgery as a sub-specialty in Sri Lanka, and developing training placements in South Australia for Sri Lankan surgeons.
Randall was also awarded an Interplast Honoured Member.
Ms Marie Dorrington, an Interplast Board member and Chair of the Interplast Board Rotarian Committee, received a Medal of the Order of Australia for her service to the community through a range of organisations. A committed educator, Past District Governor of District 9500 in South Australia, and passionate supporter of Interplast, Marie provides strategic guidance and input on Rotary matters to support Interplast's relationship with Rotary that is 35 years strong.
"The opportunity to travel with an Interplast team to Tonga was one of the most awe inspiring and fulfilling experiences of my life, reinforcing how much difference Interplast makes to so many lives as it 'repairs bodies and rebuild lives in the Asia Pacific' with both clinical and training program," Marie said.
Dr Chris Lowry is an anaesthetist based in Lennox Head who received a Medal of the Order of Australia for his service to medicine as an anaesthetist. Chris has volunteered with Interplast since 1987 and participated in 33 surgical, training and needs assessment programs across nine Asia Pacific countries. During this time, Chris has been on 21 programs in Laos in the past 19 years, recently retiring from his volunteer position in 2018.
"I have always enjoyed teaching and over the years, our training programs have exposed me to complex surgeries that I haven't seen in a long time, so I am learning too," Chris said.